Hawkman is a member of the Justice League.
Appearance
Edit
Personality
Edit
Relationships
Edit
Superman
Batman
Wonder Woman
Space Cabby
Swamp Thing
Powers and Abilities
Edit
Thanagarian Physiology

Flight
Enhanced Strength
Durability
Episodes
Edit
In Repulse!, Judging from Hawkman's reaction to Superman and Wonder Woman romance -this would mean that Hawkgirl/Hawkwoman either doesn't exist or has yet to appear.
Hawkman's outfit is similar to his other incarnation from the Young Justice series.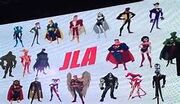 Ad blocker interference detected!
Wikia is a free-to-use site that makes money from advertising. We have a modified experience for viewers using ad blockers

Wikia is not accessible if you've made further modifications. Remove the custom ad blocker rule(s) and the page will load as expected.