Doctor Light is a superhero with the power of light manipulation. Her voice is yet unknown.
Background
Edit
Once an arrogant astronomer Kimiyo was struck by an unknown cosmic radiation that bestowed upon her metahuman powers to manipulate light and flight. Now Kimiy uses her new powers to help the world and joined the Justice League as Doctor Light.
Powers and Abilities
Edit
Light Manipulation
Flight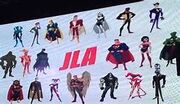 Ad blocker interference detected!
Wikia is a free-to-use site that makes money from advertising. We have a modified experience for viewers using ad blockers

Wikia is not accessible if you've made further modifications. Remove the custom ad blocker rule(s) and the page will load as expected.